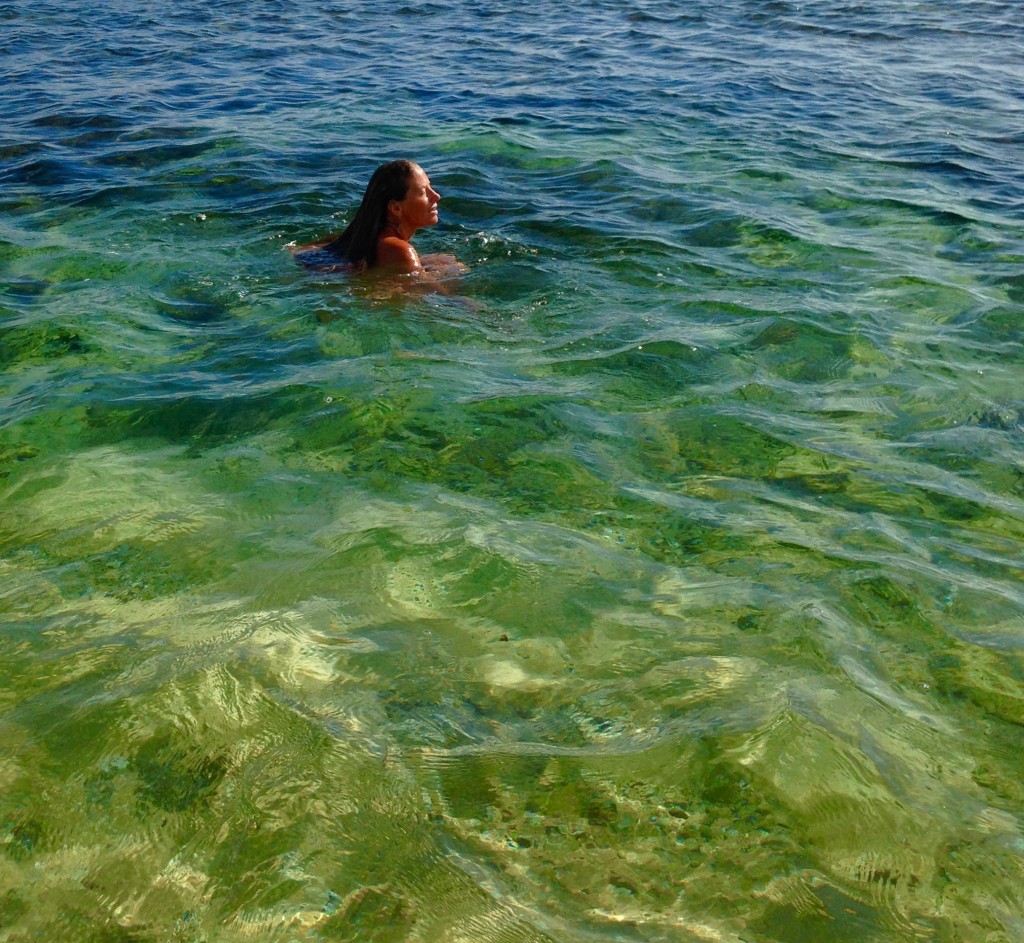 Isa is a mother, mermaid, painter, dancer, and drummer. She is was born in Germany in 1960.  The family immigrated to the U.S. when she was 3 years old. Attending alternative schools, free to roam the forest,  swim, or draw all day, she and her siblings were encouraged to question authority, express their creativity, and live their values.
Isa earned her Bachelor of Fine Arts degree in painting and dance at Antioch University. Then she fell in love, got married, and raised 3 children and a herd of milk goats on a farm in the Blue Ridge mountains.  There she learned about herbal medicine, organic gardening,  sacred dance, and African drumming.
When a nuclear waste company moved into her rural community, Isa became an environmental activist.  Battered by the immensity of this work, she and her colleagues learned how to use circle ritual and earth spirituality to restore their energy and to keep the focus of all actions on their love for the earth.
Trouble in the marriage led Isa to study and eventually teach Re-Evaluation Co-Counseling, a non-heirarchical  practice in which everybody takes turns being both counselor and client.  RC encourages physical discharge of held emotional pain, liberation from internalized oppression, and living without limits.
In 1997 Isa moved to Kauai and fulfilled her dream of painting for a living.  She also intensively studied, practiced, and taught African drumming and dance, and started the group Love Tribe, a women's sacred drumming and dance ensemble, and later Aloha Africa, a cultural exchange program hosting dancers and musicians from Ghana.
In 2001 she participated in the formation of Kauai's first NVC practice group.  Since then she has been facilitating ongoing practice groups and providing NVC counseling, couples coaching, mediation, and workshops in the Kauai community.  For example, she worked with staff at Wilcox Hospital and the Resonance Project, taught school groups, and mediated conflict transformations between family members, friends, and business partnerships such as farm owners and their farm managers.
Isa's Nonviolent Communication teachers include Robert Gonzalez, Mary MacKenzie, Kelly Bryson, Jim and Jori Manske, Inbal Kashtan, Christa Morf, Bob Metz, and Ellen Shiro.
"Isa is clear, present, and available."  … Dr. Latifa Amdur
"Isa has an incredibly deep connection to herself and to Spirit. She is genuinely happy."                                                                                          … Fernando Severi, Mankind Project
"Mahalo nui for your loving support and for being the amazing you that you are.  You are an amazing inspiration."  … Steve Backinoff, Dances of Universal Peace leader
"One of the things I love about your personality is this creative and courageous willingness to go for it.  I'm feeling crazy amounts of gratitude for your presence in my life."  … J.P. Allen, NVC facilitator and author
"Thank you for your attunement to spirit and the way it shines through you."  … Sufis Hawaii